<! –– End of Headder -->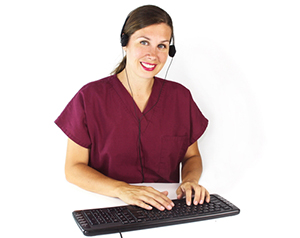 Medical transcriptionists often credit Andrews School online certificate training program for their medical transcription career success. One reason employers tend to prefer Andrews graduates is, we train students using a grading scale very similar to that employers use when they evaluate their medical transcriptionists. The system we use allows our students to learn by body system, a superior learning method for medical transcription training. That's only one reason Andrews medical transcription graduates excel on the job.
Our practical online program has offered the best medical transcription education and training since 1990. The course, well known and respected in the healthcare industry, is instructed by certified medical transcription professionals, using the best of training resources.
Most medical transcriptionists work at home, so the ability to work from home independently, without direct supervision, is an essential skill to learn. Our medical transcription course teaches that skill as just one of many advantages of remote medical transcription training, or distance learning classes.
Before you decide on a career in medical transcription though, know that medical transcription is hard work. There is pressure to complete the work by deadlines or turnaround time. MTs are also paid on production, usually by the line, which means even more pressure to work harder so you will have a greater income. Often people think that all you need to know is medical terminology and fast typing speed and you can transcribe medical records. That might make you a medical typist, but much more is required in order to become a medical transcriptionist. A medical transcriptionist must be able to take all of those terms, the anatomy & physiology, disease processes, and knowledge about the patient's medical record, and put it all together to produce a medical document properly formatted under current guidelines.
Andrews graduates are able to do that because they use all of those parts, studied by body system, as they transcribe from the beginning of the course. They know how to put it all together the way employers want it done. In fact, our grading system is based on the accepted work audit system used by employers. Because we use a training system similar to the system employers use to audit the work of their medical transcriptionists, our graduates are a big step ahead in their careers.
Medical transcription salaries on-site at hospitals are sometimes better. They are usually also more stable, since medical transcription employers, called Medical Transcription Service Owners (MTSOs) sometimes hire more MTs than they need, just to make sure they can meet the important turnaround times they've agreed to in their contract with medical service providers (physicians, hospitals, clinics). Salaries for a medical transcriptionist usually start out low for a period of time and then start going up as the MT gets used to the platform (the computer system the MTSO uses), the group of doctors assigned to them, and the particular style required by that specific employer.
Healthcare industry changes have eliminated part of the work through technology, changing the way transcription is sometimes done. While a traditional career path to transcription is still available, some of those jobs have been replaced by medical transcription editing, with editors correcting the work that was produced by speech recognition software. Still other MT jobs are being done differently because of the electronic medical record. Information about the career outlook for the next 10-15 years indicates more changes to come.
Our course teaches the skills necessary to input text into the electronic medical record. We also teach medical transcription editing. Some MTs enjoy it, but most prefer traditional transcription. Either way, the ability to recognize and correct errors is a valuable skill for all medical transcriptionists. If you are ready to learn to become a medical transcriptionist, from home or on-site, we can help you meet the career goal you have set for yourself.
Will we return to more traditional medical transcription that many prefer? We've seen some of that recently. Some physicians have rejected speech recognition and insist on the traditional dictation system. Nobody knows exactly what will happen in the next 10-15 years. Because of that, many medical transcriptionists are pursuing a career in Medical Coding, to enhance their career skills so they will be ready for a completely new career if they choose.
Nevertheless, graduates continue to call or write to say that the medical transcription career training they received at Andrews continues to be a blessing to them and their families. Call us to discuss why this may or may not be the right career choice for you. We will help you consider all of your career options.
We are approved as a Comprehensive Medical Transcription Program by the Association for Healthcare Documentation Integrity (AHDI). The Andrews School program fulfills the requirements of The Model Curriculum for Medical Transcription, which was initially developed by AHDI to assist educational institutions in the development of medical transcription educational programs.
It may be confusing to see all the job titles for a medical transcriptionist. Employment offices listing transcription jobs may refer to them as documentation specialists, speech recognition editors, medical language specialists (MLS), medical secretaries, medical typists, medical administrative assistants, and sometimes even a medical transcriber, although most MTs consider a medical transcriber to be a machine that a transcriptionist uses to transcribe or create transcripts from medical dictation. The professional organization for medical transcriptionists, AHDI, offers a certification exam, Certified Healthcare Documentation Specialist (CHDS).
Over the years we have worked to improve the quality of education medical transcriptionists receive. The Andrews School has designed a program that uses the best and eliminates time-wasting "fluff" or filler classes that add little or nothing to on-the-job success. Practical education and training allows students to get out there quickly and start using the skills they've learned.
Our program includes studies in the English Language (Medical Style and Grammar incorporating the AHDI Book of Style), Medical Knowledge (Anatomy and Physiology, Medical Terminology, Concepts of Disease, Pharmacology and Laboratory Medicine), Technology, Medicolegal Aspects of the Healthcare Record, and Medical Transcription Practice, a simulated professional "on-the-job" experience.
Our program includes 3,412 minutes of physician-dictated medical reports. This includes 1,048 reports focusing on both general medicine and the specialties. Students are required to transcribe 2,122 minutes of actual physician dictation. In addition, we have over 1,500 optional minutes of dictated material available for our students who want even more transcription experience or want to do additional work in a particular specialty.
The training units we use were put together by top medical transcription industry experts who went to great lengths to concentrate enormous amounts of education and training into the smallest number of instructional units possible. This means students accomplish much more in a shorter period of time. Students of The Andrews School learn highly marketable skills such as how to flag questionable areas and edit appropriately, without changing the medical meaning of a report or even the dictating style of the physician. Our students also receive training in the use and benefits of medical transcription macros or expander programs.
As a student, you'll find that the staff, instructors, and graduates are your biggest cheerleaders and mentors. We also provide a special online Graduate Center, restricted to Andrews School graduates. This is a great place to network, discuss job options, and get career advice and assistance from staff, instructors, and other graduates.
The goal of The Andrews School course is to prepare students to transcribe the way employers want it done. Our students study independently from home, effectively learning to follow written instructions, reach transcription goals and meet deadlines.
We've been able to provide our students with the best instructors available, those with successful practical experience, each with unique skills, talents, and teaching styles. This is another way we prepare our students to work successfully with supervisors on the job. Each student will also be assigned a staff member who will follow their progress throughout the course, providing advice and support, as needed. We also have 2 full-time technology specialists on staff. The bottom line is, we have just the right mix of technology vs. actual transcription experience.
Books and materials for the medical transcription program are included in the cost of the course.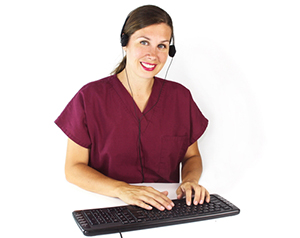 Call or write us if you need help or if you have questions about any of our online medical career programs. When you do, let us know if you heard about us from a medical transcription employer, one of our successful graduates, or an online search. 405-721-3555 or linda@andrewsschool.com if you prefer to write. <! –– Start of footer -->