<! –– End of Headder -->What Do Employers Want From Brand New Medical Coding Graduates?

We all hear horror stories of students who work hard, graduate, and can't find any employer who will give them a chance. Andrews graduates rarely have that problem.

Why are some new graduates successful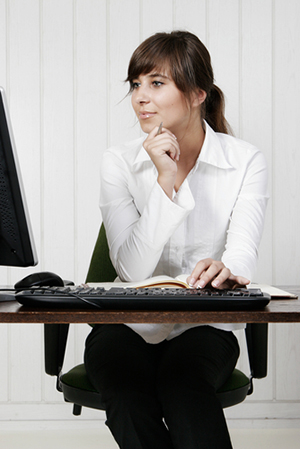 in getting that first job and others fail? Why do Andrews graduates get jobs that graduates of many other schools aren't even allowed to test for?
When graduates of other schools contact me for help, I don't put them down as hopeless if they made a poor choice in schools. I try to see if there might be some way to help. Often their own schools have not been willing to offer them any worthwhile placement assistance.
I ask them first to tell me just how extensive their job search has been. If they tell me they've applied for 5-10 employers, I know that's part of the problem. The job search takes effort. Even if you have to apply with 200 different employers before you start getting positive responses, you have to keep at it.
The second question I ask is, are there any restrictions on the job you would be willing to take? Often the answer is that they can only work part time, or will not work weekends, or will only do outpatient, or will only work for a local employer, and there are none.
Most of the time the answer is, inadequate training to be able to pass the tests employers give to job applicants. For example, coders who can't pass the right credentials exams have a very rough time getting a first job, even when everything else is in place. They can offer to work 7 days/week, do whatever they are asked to do, have a great interview personality and work style, and still be refused the opportunity of even testing for a coding job. That confuses new graduates who believed that they did everything right.
In coding, part of the reason for placement failure is their choice of certification credentials or lack thereof. Credentials mean everything in medical coding. As an applicant for a medical coding job, you must have the credentials the employer is looking for. In most cases, that's a CCS (AHIMA), sometimes a CPC (AAPC), but very rarely the CCA, which is Certified Coding Apprentice---a sure give away to the employer that they will be doing a lot of basic teaching on the job, finishing the job that the school started. You might say, it's like that with all credentials. It's true that you will continue to learn on the job, but the CCS exam means your skills have been tested at the professional (working coder) level. You have passed a test that many working coders have not been able to pass. That really means things.
Years ago when our coding program started, somewhere around 1990 or so, I called one of my friends who headed up the Health Information Management departments of 2 large hospitals. She said, "Linda! It's so great to hear from you. I had no idea that you were teaching coding. I know the quality of work you do with medical transcription students, so I know your coders are getting an excellent education---but no, we are not going to hire your graduates." I asked her why they wouldn't consider a new graduate. She said, "We're not a school. We don't have time for training. We have charts stacked to the ceiling and just don't have time to deal with a new graduate."
I asked her one question that sealed the deal. "What if our new graduates already had their CCS?" There was silence for a second, and then she answered, "If they already have their CCS, then of course, we would take a look at them."
Because of the fact our Andrews School coding graduates tend to take the CPC after finishing Module 3 of the 4-module course, and then take the CCS as soon as they can after graduation, our graduates have done well getting those first jobs. Many of them have jobs in a related field and as soon as they have that CCS, they are promoted to a better paying position with more potential for future salary increases.
The bottom line is, short, fast, cheap courses that get you nowhere are not a bargain. Get the best education you can. Give it your best. Then you will be in the best possible position to test well for the employer(s) of your choice. The Andrew School provides you with the best preparation for starting your new career. We are always happy to discuss options and answer your questions for you. Contact us today. <! –– Start of footer -->