<! –– End of Headder -->

Linda Andrews, Director
The Andrews School
www.AndrewsSchool.com

Is this the year for your goal to be to learn ICD-10-CM/PCS? Let me tell you why there probably won't be a better time to do it.

First, a short background in the importance of goal-setting and the value of timing as well as setting specific goals.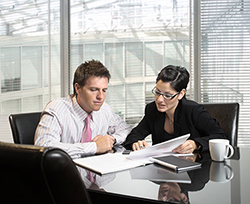 Every year I try to set a specific goal to learn something new. Learning something new is good for the brain. It makes us more interesting. It enhances our lives and the lives of those around us.
Maybe I should start labeling my goals as, "This is the year I will START to learn…"
Often a goal I choose turns out to be only a start of something that will take a lifetime to learn. Those were the years I decided to learn to speak, read, and write Hebrew, for example. It was one of my favorite goals, one I'll be working on for the rest of my life.
Another year I decided to become an expert on the stock market. I didn't become an expert, of course, but I learned more than I could have imagined. The most important thing I learned that year is good advice in all areas of my life, to develop an investing system that works for me, and stick with it over time, no matter what the rest of the world is doing. During those inevitable times when the whole investment world is in a panic, I can stay relatively calm, because I have a system, a plan to help me reach the goals I have set for myself.
My goal another year was to get to know God better. That one is still in progress as well, of course. I was a little wiser with that goal. In the past my mistake has been in not being more specific about exactly how I was going to achieve a particular goal.
The year of getting to know God better, I went back to the beginning of civilization, the Middle East. I was able to practice the very embarrassingly little amount of Hebrew I had learned the 2 years before as I took a 3-week journey to Israel, Jordan, Turkey, the island of Patmos, Greek islands, and the mainland of Greece. I was able to look over into Egypt, Saudi Arabia, and Syria, wishing I could cross those borders and visit those areas as well. Unfortunately, they were not on my itinerary for that trip.
It was the right time for me to set that particular goal. I was specific in my plans about where I wanted to go and what I wanted to achieve. I stayed with my plan even when I was so tempted to change my itinerary.
What about your own plans for this year? Is the timing just right for YOU to get to know medical coding, specifically ICD-10-CM/PCS? This year is the perfect year to learn or "start" to learn the ICD-10-CM/PCS coding system. We've been using ICD-9-CM for what seems like forever. The idea of learning something with such a strange name, ICD-10-CM/PCS, makes the task seem even more daunting, but it really isn't that difficult.
The truth is, many current medical coders are so afraid of this new system that they are taking early retirement rather than learning something this new and different.
In fact, ICD-10-CM/PCS does have much more detail. It does require a more complete knowledge of anatomy & physiology. The fact that it requires more specific information may actually be a good thing for many reasons. That specificity will make this system easier, once you learn it, than the old ICD-9 version has been all these years. Why? It will be easier because physicians will be required to include that specific information as they document what they have done (procedure coding) and why (diagnosis coding).
Once you have the information, having the RIGHT code will be more certain. There will be fewer questions about whether this is the right code or not. I like that! I'm hoping the new system will cause less "upcoding", inaccurate coding or submitting claims with codes indicating more than was actually done. The changes may result in correct medical reimbursement from insurance companies and patients.
There will be currently practicing medical coders who will decide it isn't worth it to learn this new system. That will result in more jobs for those who do. The greater specificity required will result in even more jobs in hospitals and clinics.
So, is this the year for your goal to be to learn ICD-10-CM/PCS? I can't think of a better time to do it.
See our web site for information about careers in medical coding, medical transcription, medical billing, and medical administrative assistant. www.AndrewsSchool.COM <! –– Start of footer -->