<! –– End of Headder -->

Online training in Medical Billing skills can boost your current medical office career as a medical secretary, medical office clerk, or medical administrative assistant. If you prefer to specialize in medical billing, our program can help you get your new career as a medical biller started the right way.

Those who call us about becoming a Medical Biller often say that they have always wanted to work in a medical environment, but they do not want to do hands-on patient care. They may not think that they have the right "people skills" to work at the front desk. They visualize the position of Medical Billing Clerk taking place in some tiny office in the back somewhere hidden so that patients never see them.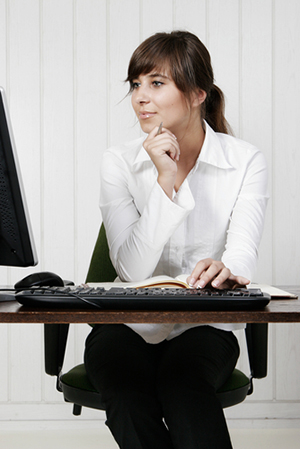 Another point people make about Medical Billing is that they might be able to work at home. While it is sometimes possible to do Medical Billing from home, most of the best jobs are on-site in hospitals, clinics, medical group practices, insurance companies, large veterinary clinics and nursing homes. Often employers want to at least start a Medical Biller in the office before allowing them to go home to work later.
There are as many different Medical Billing situations as there are people to fill those jobs. Some are front-desk positions while others are in a back office removed from patient contact. Some do their work from home while others have an assortment of duties that require them to be physically present in the office. Often medical office personnel add medical billing skills to their resume in order to advance their medical office careers.
So what characteristics and personality types excel in a Medical Billing job? Those who do best are those who can work independently with little interaction with others while at the same time having the ability to communicate pleasantly and intelligently by phone and in person when necessary.
The goal of our Medical Billing program is to develop the skills you need. We'll help you learn how to interact with business colleagues. You'll be able to do it because you will be a knowledgeable and skilled worker with confidence about your ability to do your job well. Your ability to interact with others will develop naturally along with your skills. All medical billing books and materials are included. There are no other charges.
Call us at 405-721-3560 now for more information about medical billing. If you prefer, write Linda@andrewsschool.com with your questions about getting started toward your career in medical billing.
When you write or call, let us know how you heard about us. We'd like to know if you were referred by a medical billing employer, one of our successful graduates, or an online search. <! –– Start of footer -->