Where Do Medical Billers Work? * Can Medical Billing be Done from Home?
You can learn to be a medical biller from your own home, but what are the chances that you will find a medical billing job from home? Part of the answer to that question is in the quality of training. Most courses just don't teach enough for graduates to have marketable skills. The majority of medical coding training programs are just an "Introduction to" medical billing. That just isn't enough to get good results. Start by getting practical medical billing training that will get you the results you want, marketable medical billing skills for a successful medical billing career.
Medical Billers work for a variety of employers. They work directly for the physicians and medical facilities, directly for the insurance providers, or even with employers who contract with the doctors and/or the insurance companies to help the entire process move smoothly and quickly. You might choose to be a medical billing consultant or work with medical reimbursement for a physician practice management organization or professional billing company where medical billers are expected to have a great deal of expertise and the salary might be significantly higher. Membership in medical billing associations may provide valuable networking that will lead to important job leads. The list below isn't exhaustive but it does give a sample of the places Medical Billers might work.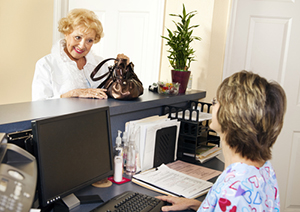 Hospitals
Insurance Companies
Medical Practice Management Companies
Medical Billing Services
Medical Laboratories
Medical Offices and Group Practices
Medical Insurance and Reimbursement Services
Nursing Homes
Dental Offices
Rehabilitation Clinics, both Outpatient and Inpatient
Clearinghouses
Let's think it through the way employers think about it. Medical billers or medical billing clerks, work with highly confidential information. Their job is to do their work correctly so the physician and medical staff get paid for what they do. They aren't going to turn this job over to a new graduate working from home with no supervision. We know that there are medical billers who work at home, but many of them worked on-site first, before going home to work in remote medical billing jobs. There are exceptions. We've all heard about medical billers who have worked at home from the beginning of their medical billing, or medical billing and coding careers. If you absolutely must work at home, the smart thing to do is investigate to see if those jobs are available in your area before investing your time, effort, and money in medical billing training.

My recommendation is that you look around your area. Are there many hospitals and clinics within driving distance? If not, medical billing probably won't be a very marketable career for you. If there are a good number of medical offices, hospitals, and clinics in your area, would you be willing to work on-site for a period of time before being allowed to work at home? If there is no way you could even start out working on-site, do a little more research. Are there employers in your area that hire medical billers from home? Talk to your friends and relatives. Ask them if they know of any medical billers you could talk to before you invest time and money in a medical billing program.

Also see our section on Medical Coding, which may be the answer for someone who wants very much to do medical office work, but must work at home right out of school. The key there is having a very solid medical coding education so you can pass difficult medical coding employment tests and also successfully sit for credentials exams that medical coders are expected to have.

All medical billing books and materials are included with the cost of the course.

Call us at 405-721-3555 now for more information about medical billing. If you prefer, write linda@andrewsschool.com with your questions about getting started toward your career in medical billing.

When you write or call, let us know how you heard about us. We'd like to know if you were referred by a medical billing employer, one of our successful graduates, or an online search.