<! –– End of Headder -->

Exactly what will you learn as an Andrews medical billing student? Your training will include a variety of skills such as medical terminology, healthcare rules and regulations relating to medical billing, coding, and reimbursement. Our medical billing program will give you the knowledge and skills you need for professional billing credentials or certification. The course instructor is available to get you started, answer your questions, and guide you toward medical billing career options. All medical billing books and materials are included.

There may be as many different job descriptions as there are Medical Billers out there, but there is a core set of skills that is universal. These are the skills you need to be able to quickly and easily adapt to any Medical Billing job you end up in. Did you know that in many medical offices claims are filed incorrectly, denied for payment by the insurance companies, and never followed up or re-filed at all? Medical billers and reimbursement specialists must be able to process and track the many different types of insurance claims. They must also be able to explain benefits and fees to patients, while complying with relevant laws and regulations.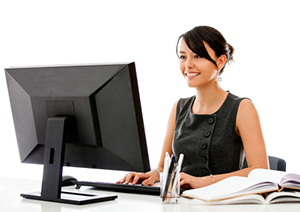 Our students learn medical terminology, the differences between each type of insurance provider and how to bill them, the rules and regulations that billers and medical offices have to follow, and more. They practice with EHR software and CMS-1500 claims forms. Students don't need prior office experience or medical knowledge to take our course, but those who have it are able to move faster through their assignments. If you have previous work experience as a medical administrative assistant, medical secretary, or medical transcriptionist, you will already be a step ahead in your medical billing career.
All books and materials for the medical billing class are included.
Our practical approach is designed to teach the information graduates need for a variety of billing or reimbursement positions while eliminating time-wasting "fluff" or filler topics that add little or nothing to on-the-job success.
Write linda@andrewsschool.com with your questions about getting started toward your career in medical billing.
If you would rather talk directly to the medical billing instructor about the best way to reach your medical billing career goals, you may call her at 405-721-3560.
When you write or call, let us know how you heard about us. We'd like to know if you were referred by a medical billing employer, one of our successful graduates, or an online search. <! –– Start of footer -->