<! –– End of Headder -->

You've found the best medical billing training.

This is a great time to start a career as a medical biller!

If you are ready to enroll, let's get your new medical billing career started!

Enrollment is limited to citizens of the United States as well as US Military stationed overseas.

If you meet this qualification, the first step in the application process is to complete the free Medical Billing screening test at the link below. NOTE: This is the screening test for the course in Medical Billing. If you are interested in another one of our courses, go to the "How To Apply" section for that course.

http://www.andrewsschool.com/billing/transtest.php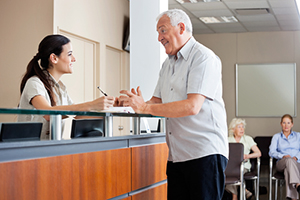 Completing this test does not obligate you to finish the application process and you will not be placed on any mailing lists. We do not have any commissioned salesmen, although we are happy to answer any questions you have.
Please note that we will not grade and return the entire test. We will provide an overview of your results with general comments and recommendations by email within two working days. If you use a spam blocker, or if your email account is full, you may not receive this email. Those who receive a failing grade may request an opportunity to retest after three months.
Once you have completed and passed the screening test, we will need the following enrollment agreement filled out and submitted from you so you can get started as quickly as possible. We have continuing enrollment so you do not need to wait until a new semester or quarter begins. You may submit this information by email in a .pdf file to andi@andrewsschool.com or by mail to the school address below. This form will require your signature.
The Andrews School
10529 Sundance Drive
Yukon Ok, 73099
Medical Billing Enrollment Agreement
-The "Starting Date" on the first page is calculated to be 10 days after the date you sign and submit the enrollment agreement.
-The minimum down payment amount is $300.00. The monthly payment for this option is $60.00.
-The recommended down payment amount is $600.00. The monthly payment for this option is $30.00.
-If you are paying $900.00 in full at enrollment, write N/A in the monthly payment amount and monthly payment date sections. If you need help figuring your monthly payment amount for a different down payment, please contact the school for assistance before signing and submitting your enrollment agreement.
-The monthly payment date is exactly one month after the Starting Date listed on the first page.
Books and materials will not be shipped until a signed enrollment agreement is received and accepted by the school. A copy signed by a school official will be returned to you for your records.
When you write or call, linda@andrewsschool.com or 405-721-3555, let us know how you heard about us. We'd like to know if you were referred by a medical billing employer, one of our successful graduates, or an online search. <! –– Start of footer -->