Successful Career Training for the Healthcare Industry
Graduates of The Andrews School course in Medical Administrative Assistant are prepared to work in a medical environment such as a doctor's office, medical clinic, large medical group practice, hospital department, insurance company, nursing home, or Medicare agency.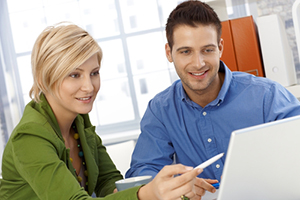 The staff, instructors, and graduates are your mentors and your biggest cheerleaders. In addition to the instructor, each student will be assigned a staff member who will follow their progress throughout the course, providing advice and support as needed.
One of the major advantages of our course is the fact that in addition to your primary instructor, your work is looked at and evaluated by educators with a variety of styles and personalities, just the way it is on the job. When several experts have 'signed off' on your work, your confidence level will be much stronger. At least one of them will be very much like one of those who will be evaluating your employment tests and your work on the job later. On the job you must have the skills to adjust to different work styles and personalities. In the medical community, supervisors are constantly moved in, out, and around. Flexibility is one of the skills we build in our students from the very beginning.
Books and materials for the medical administrative assistant program are included in the cost of the course.
We also provide a special online Graduate Center, restricted to Andrews School graduates. The Andrews School Graduate Center is a comfortable place to network, discuss job options, and get career advice and assistance from staff, instructors, and other graduates. As a graduate, you will have access to continued support and community through The Andrews School. There are frequently discussions going where the more seasoned graduates come back to mentor and encourage newer ones as they begin their careers. Networking is a valuable tool when working graduates refer fellow graduates to their employers.
Call or e-mail us today for more information or if you have any questions.