Giving Our Medical Administrative Assistant Students The Inside Edge
The typical course in Medical Administrative Assistant only briefly covers entry-level medical office skills as an introduction to the basic functions of the medical office. Our goal is to give you an inside edge by including some "extras" that will guide you toward a more productive and rewarding long-term career in the medical office.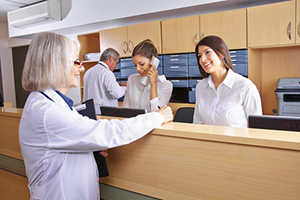 Along with those basic skills that any medical Administrative Assistant program would most likely include, you will complete more advanced studies on time management, goal setting, and making correct business decisions. These studies will give you an advantage, whether you are new to the medical industry or just transitioning to a different area of responsibility. The medical office can be intensely stressful at times. Our section on Conflict Management will help set you on the right track and keep you there.
Our program for the Medical Administrative Assistant is geared towards those who want to work in the administrative part of the medical office and who want to know how to do their work the right way. You'll want to do that because you want to take pride in your work. You'll also want to do your work well enough that you attract the right kind of attention, possibly in view of future promotion. We want our students to learn how to attract attention in a good way while avoiding common mistakes. The course is designed to be appropriate for students with or without prior medical office work experience or education.
This course will help you to stay flexible, to make changes or adapt when necessary, all the while being true to your standards and values. If you're not sure what that means at this point, you will by the end of the course.
We'll help you with decision-making, time-management, and conflict management. You'll have a better idea of what it means to "choose your fights" rather than living a work-life of stress and turmoil, or perhaps slipping into an illness common to medical office personnel, "The Power Trip." People in medical offices tend to be territorial. We'll help you cross-train with other employees without making them feel threatened, insecure, or hostile. Our students will learn about manners and conduct appropriate to the unique and unusual situations that often arise in the medical office.
Our program includes a simulated professional "on-the-job" experience. Creative assignments are designed to build skills and confidence.
Books and materials for the medical administrative assistant program are included in the cost of the course.
Call or e-mail us today for more information or if you have any questions. We'll be glad to talk with you about your medical office career options. Talk to us today. 405-721-3555 or write linda@andrewsschool.com if you prefer. There is no pressure when you contact us. We have no commissioned sales staff. You'll either get Linda Andrews, Director, or Glenda Hickman, Student Coordinator. If we know that the course is not the right choice for you, we will tell you so.