Medical Administrative Assistant Job Description - Online School
A Medical Administrative Assistant job is different than most administrative assistant positions. In a medical office or hospital, the medical administrative assistant must know medical terminology and be up to date on the latest healthcare regulations. Knowledge of billing and collections are a must, whether or not they are part of the regular job duties. They must be able to work with patients, physicians, medical office staff, and insurance company representatives. A "medical administrative assistant" in a small office may involve medical billing and coding while in a large office those duties may be segmented into a billing and coding department with billers and coders responsible for those duties.
By the way, the medical office only appears calm and serene to the patients who visit. It's actually a hectic environment and requires a medical administrative assistant who is poised, calm, helpful, and well organized. The Medical Administrative Assistant has to have both organizational skills and flexibility. It will often be necessary to drop everything on that well- thought-out plan for the day to resolve issues that were not on the day's schedule.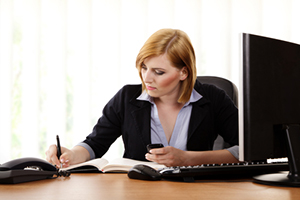 If you research the duties of a dozen Medical Administrative Assistants, you'll find that they aren't even close to being the same. They vary according to level of education, skills, and motivation. One medical group practice may have a number of Medical Administrative Assistants. Some will be at the front desk greeting and registering patients and scheduling appointments by phone. Others may be behind the scenes verifying insurance coverage, filing claims, billing insurance companies and patients. In some smaller practices, all of those duties may be performed by only one or two people. In very small offices, the administrative medical assistant is in charge of everything.
People sometimes use the job title Medical Administrative Assistants with medical office managers, medical assistants, or even medical group managers. The medical group manager responsibilities are usually at a level which require additional education and on-the-job experience.
There are fundamental skills that will be useful to you no matter where you work. Our program starts with those essential skills, allowing the student/graduate to build on them over time.
When we go into a medical office as patients, we like to see a well-organized, calm, efficient unit that serves our needs without a lot of fuss. We want to believe that they are following rules and regulations that protect our health and privacy. The Medical Administrative Assistant works, often behind the scenes, to see that the medical office operates both efficiently and effectively.
There will be enough drama in the office that is unavoidable. The Medical Administrative Assistant must learn to be a model of composure. There is a very fine line between having a friendly professional relationship with others in the office and the inappropriate 'buddy' relationship.
There will be situations with patients who are ill, scared, in pain, cranky, and/or just unpleasant. The Medical Administrative Assistant has to be prepared for aggressive salespeople and vendors who come at the wrong time, colleagues of the physicians who 'just need a minute' when the doctor doesn't have an extra minute, and the demands of employers who don't care how you manage, but want it done now!
No matter how organized the Medical Administrative Assistant may be, plans may go out the window at a moment's notice because the doctor is delayed at the hospital or there is a medical emergency in the office. At those times you may feel like a flight attendant calming the fears of a plane full of people on a rough flight. The ability to multitask is a must.
Call or e-mail us today for more information or if you have any questions.