Opportunities for Medical Office Career Advancement
At the highest level, a Medical Administrative Assistant works with physicians in the practice to design, set up, implement, and manage the functions of the business side of the organization. The tasks are usually weighted very heavily in the area of goal-setting, making wise decisions in a timely manner, personnel management, conflict management, and problem-solving. A top-level Medical Administrative Assistant knows how to be pleasant while also being firm, but fair when working with others. A good Medical Administrative Assistant knows how to take the 'personality' out of a situation and resolve problems effectively. Our section on Conflict Management will help you build the skills you need.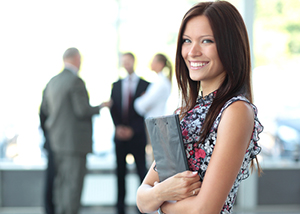 One of the greatest responsibilities of a Medical Administrative Assistant is in the area of patient health information, privacy, and confidentiality. It is necessary for the entire office to know the rules and the consequences of not following them.
In addition to the important but more ordinary functions of a Medical Administrative Assistant such as answering phones, answering questions, and scheduling appointments, you may be eventually be responsible for the ordering of supplies and equipment, setting the employee schedules and duties, overseeing patient privacy issues, billing, insurance reimbursement, and collections. Medical Administrative Assistants at the advanced level must also be available to manage inter-office personnel situations, rumors, gossip, staff hiring, supervision, and termination. Oh yes, there is accounting, marketing, and public relations as well.
Medical office management positions are not all the same. Depending on the size, medical specialty, and location, the advanced-level Medical Administrative Assistant may manage specific day-to-day operations, supervise medical office personnel, and oversee the general organization of the office. In a small office, the Medical Administrative Assistant may have only herself to manage. In a larger practice, there may be medical receptionists, insurance clerks, billing and collection personnel, appointment schedulers, and those who maintain the medical records.
The Medical Practice Manager or Administrator for large group practices will require greater skills, education, and past work experience. This course is just the first step toward that position, which is beyond the scope of this course.
Medical Administrative Assistants are often chosen to advance into management positions after years of becoming expert at each of the many roles involved in the office. The work grows steadily and consistently over time to the point where more employees are needed. The responsibility for hiring, training, and overseeing the work done by the new employees naturally falls to the person who has demonstrated the ability to do those jobs in the past. That's one way medical offices tend to 'build' a manager. Other methods would be through extensive education or even moving from a general office position in a large organization to a position of management in a smaller one.
What Makes A Good Candidate for Promotion To A Management Position?
A good candidate for promotion to a management position would be someone who is already doing parts of that job. More importantly, this would be a person who makes life easier for all members of the medical team. Someone who frequently engages in unnecessary conflict would not be a good choice.
As you might imagine, the greatest test or challenge to a new Medical Administrative Assistant comes from the ability to work with and later manage people. There will be days when 95% of the job will be dependent on excellent 'people' skills. That's why someone working toward a career in the medical office must be able to think, plan, speak, and write effectively. The Medical Administrative Assistant candidate needs the ability to be composed, plus nerves of steel. She also has to be organized, focused, flexible, and diplomatic, with a high level of energy. The position of Medical Administrative Assistant requires a compassionate person who truly cares about people. Those who can do that consistently may be observed over time and considered for a management position.
Call or e-mail us today for more information or if you have any questions.