Medical Administrative Assistant Online Training School
If you are looking for online schools for medical administrative assistant training, consider the advantages of an Andrews School education. See below to learn more about a medical administrative assistant career, certification, salaries, and opportunities for career advancement in the medical office.
One of the most popular administrative medical office jobs is that of the medical administrative assistant. Almost every medical office has at least one. Duties vary by the size of the medical office and the skill level of the medical administrative assistant. Online schools usually teach fundamental computer skills and grant a certificate of completion. That isn't enough.
The successful administrative assistant must have impressive communication skills to be able to work well with physicians, medical office staff, healthcare insurance professionals, patients, and coworkers. They must be knowledgeable about healthcare industry regulations. They need to have professional-level skills in medical billing and reimbursement, because that's how medical professionals get paid for the work they do.
The Andrews School Medical Administrative Assistant course prepares students for employment and future advancement, promotions and greater salaries for example, in the medical office. The course is not just an updated version of a job description for a medical secretary, although medical secretaries often make excellent medical administrative assistants.
The medical administrative assistant works with patients to collect and process confidential healthcare information. Our goal is to develop skills and critical thinking techniques needed to work in a variety of healthcare environments.
Our program of education for the medical office worker responsible for the duties of a medical administrative assistant includes studies in written and telephone communication guidelines when dealing with staff, coworkers, patients, referring physicians, vendors, salespeople, and insurance companies. Our students will use time as one of their best resources by learning to schedule their time and evaluate options correctly. Enhanced "Soft skills" or "people" skills, as applied to interoffice relationships and in-person patient contact, give graduates a powerful advantage on the job.
At the end of the course, students will have a well-designed resume and cover letter, greater potential for increased salary, along with the self-confidence that comes from solid skills and practical knowledge. The course is designed both for the healthcare industry beginner and those who are transitioning to a new job and wish to expand their medical office skills.
Students will complete practical assignments to ensure that they can actually use what they've learned about interoffice relationships, patient interactions, how to deal with difficult people, conflict management, goal-setting, and decision-making strategies. Many courses teach a great deal of theory, but our students actually get the opportunity to put it into practice. The program is designed to incorporate a healthy balance of academic studies along with practical application.
An extra benefit to our online program is improved ability to work independently without direct supervision, an essential office skill valued by employers, just one of many advantages of distance learning.
We have designed a practical no-nonsense medical administrative training program that allows students to get out there quickly and start using the skills they've learned. Creative assignments are designed to improve communication skills and build a higher level of confidence.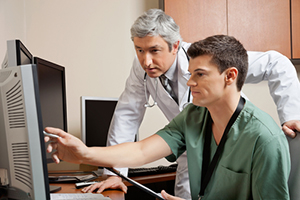 Healthcare documentation technology changes at an ever-increasing pace. Future employment in the healthcare industry will require knowledge, skills, and flexibility. Students will be introduced to techniques and technologies that will increase employment options and advancement.
Topics covered in the Medical Administrative Assistant course include: Medical Terminology, Anatomy & Physiology, Pharmacology, Disease Processes, Communication Skills, Medicolegal Aspects of the Healthcare Record, Billing and Reimbursement Methods, Healthcare Data Content and Structure, Management Procedures and Coordination, Internet and Office Software Skills. Professional Development skills include Decision-Making, Time Management, Problem Solving, and Conflict Management. The program includes a simulated professional "on-the-job" style experience.
The training units we use are designed to concentrate enormous amounts of education and training into the smallest number of instructional units possible. This means students accomplish much more in a shorter period of time.
Call or e-mail us today for more information or if you have any questions.