Medical Transcription Training Online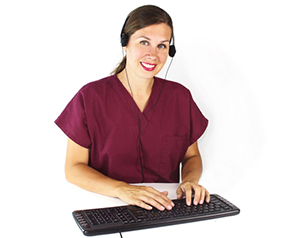 The Andrews School has been providing quality medical transcription education and training since 1990. Many medical transcriptionists credit The Andrews School online training for their success. We are approved as a Comprehensive Medical Transcription Program by the Association for Healthcare Documentation Integrity (AHDI). The Andrews School program fulfills the requirements of The Model Curriculum for Medical Transcription, which was initially developed by AHDI to assist educational institutions in the development of medical transcription educational programs.
Over the years we have worked to improve the quality of education medical transcriptionists receive. The Andrews School has designed a program that uses the best and eliminates time-wasting "fluff" or filler classes that add little or nothing to on-the-job success. Practical education and training allows students to get out there quickly and start using the skills they've learned.
Our program includes studies in the English Language (Medical Style and Grammar incorporating the AHDI Book of Style), Medical Knowledge (Anatomy and Physiology, Medical Terminology, Concepts of Disease, Pharmacology and Laboratory Medicine), Technology, Medicolegal Aspects of the Healthcare Record, and Medical Transcription Practice, a simulated professional "on-the-job" experience.
Our program includes 3,412 minutes of physician-dictated medical reports. This includes 1,048 reports focusing on both general medicine and the specialties. Students are required to transcribe 2,122 minutes of actual physician dictation. In addition, we have over 1,500 optional minutes of dictated material available for our students who want even more transcription experience or want to do additional work in a particular specialty.
The training units we use were put together by top medical transcription industry experts who went to great lengths to concentrate enormous amounts of education and training into the smallest number of instructional units possible. This means students accomplish much more in a shorter period of time. Students of The Andrews School learn highly marketable skills such as how to flag questionable areas and edit appropriately, without changing the medical meaning of a report or even the dictating style of the physician. Our students also receive training in the use and benefits of medical transcription macros or expander programs.
As a student, you'll find that the staff, instructors, and graduates are your biggest cheerleaders and mentors. We also provide a special online Graduate Center, restricted to Andrews School graduates. This is a great place to network, discuss job options, and get career advice and assistance from staff, instructors, and other graduates.
The goal of The Andrews School course is to prepare students to transcribe the way employers want it done. Our students study independently from home, effectively learning to follow written instructions, reach transcription goals and meet deadlines. Most medical transcriptionists work at home, so the ability to work independently, without direct supervision, is an essential skill to learn, one of many advantages of distance learning.
We've been able to provide our students with the best instructors available, those with successful practical experience, each with unique skills, talents, and teaching styles. This is another way we prepare our students to work successfully with supervisors on the job. Each student will also be assigned a staff member who will follow their progress throughout the course, providing advice and support, as needed. We also have 2 full-time technology specialists on staff. The bottom line is, we have just the right mix of technology vs. actual transcription experience.
Call or e-mail us today for more information or if you have any questions about our program.