Advantages of Being an Andrews School Medical Transcription Graduate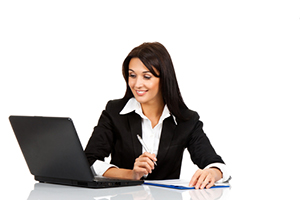 One of the major advantages of our course is the fact that your work is evaluated by high-level medical transcription educators, with a variety of styles and personalities, just the way it is on the job. When several expert instructors have 'signed off' on your work, your confidence level will be much stronger. At least one of them will be very much like one of those who will be evaluating your employment tests and your work on the job later. On the job, you must have the skills to adjust to different work styles and personalities. Supervisors are constantly moved in, out, and around. Flexibility is one of the skills we build in our students from the very beginning.
As a graduate, you will have access to continued support and community through The Andrews School. We have a private area for graduates to network. There are frequently discussions going about certification, software and other helpful tools, and more. The more seasoned graduates often come back to mentor and encourage newer ones as they begin their careers. There is assistance with resumes and the job application process, as well as additional materials in the school library that graduates may borrow to hone or refresh their skills.
Graduates are prepared to begin submitting applications as soon as they complete the course. Employers have been gracious enough to give our graduates a chance to test for them. They know the staff of The Andrews School won't misrepresent the abilities of graduates or try to oversell their abilities. We want employers to continue to come to us when they need medical transcriptionists.
The way you present yourself to your prospective client or employer will determine your opportunity to demonstrate your medical transcription proficiency. Most of our graduates have done very well in that respect. We greatly appreciate those recruiters and supervisors who believe in giving new people a chance.
Books and materials for the medical transcription program are included in the cost of the course.
Call us if you need help or more information about our online career programs. Write linda@andrewsschool.com or call 405-721-3555. When you do, please let us know if you heard about us from a medical transcription employer, one of our successful graduates, or an online search.