<! –– End of Headder -->

Medical Billing may be the answer to advancing your medical office career. Your medical office career may need a boost. Medical office specialists, medical secretaries, and medical administrative assistants, are able to increase their salaries and advance their careers with medical billing skills. If you already work as a medical biller, you may want to polish and update your skills to increase your salary potential. Our course is a 4-month program that will put you on the right career path. All medical billing books and materials for the medical billing course are included.

We get phone calls and e-mail from people who work in a medical office environment and want career advancement. They may be medical administrative assistants, medical secretaries, or billing clerks with inadequate training in medical billing. The classes in our medical billing course may provide the additional training necessary to boost that career.

There are a variety of traditional paths to advancement for the experienced medical biller. You may want to develop a plan to use your Medical Billing Clerk skills to advance over time to a position with greater income potential. The Medical Billing position is a great stepping-stone for those with a career plan of action. Let's talk about a few of those possibilities.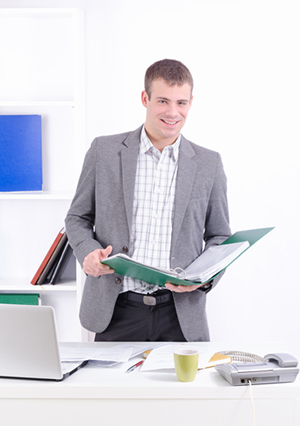 The Medical Billing Clerk in a medical office might advance to an upper-level Medical Administrative Assistant position or even Medical Office Manager. This comes over time, after consistently demonstrating expertise in the area of medical billing and reimbursement. The candidate for advancement will also demonstrate the ability to be a productive part of the medical office team, working well with physicians, patients, coworkers, insurance company representatives, and vendors.
A Medical Billing Clerk or Claims Processor for an insurance company requires extensive knowledge of medical terminology, anatomy & physiology, and disease processes. An accomplished Medical Billing Clerk may build relationships that eventually result in job offers from insurance company personnel. Professional organization memberships provide additional continuing education and networking opportunities. A supervisor with an important position to fill just might take note of your skills, work ethics, and attitude. It might appear to be luck, but it isn't. It's just a very smart way to put yourself in the right place with the right skills at the right time. As a claim processor, you'll learn to look at the insurance process from the viewpoint of the insurance company's obligations and requirements. A Claims Processor will examine the claim in very careful detail to determine if it is in compliance with the plan provisions. There may be questions to be answered. Additional information may be required before payment is made. Incorrectly processed claims and/or claims under appeal offer still another job opportunity for a Medical Billing Clerk with a long-term career outlook.
These advanced-level positions all have something in common. They require excellent "people" skills. Most people lack the kind of attitude, patience, and motivation required for advancement. If you'll consider the people around you, most are not able to work with people well enough to advance to the next level. If you are the exception, you can do it. Enroll. Do the best you can with your studies. Become an expert in what you do. Enhance your skills steadily and consistently until your work is noticed for its excellence. Make it work for you! Get started today.
When you write or call, Linda@andrewsschool.com or 405-721-3560, let us know how you heard about us. We'd like to know if you were referred by a medical billing employer, one of our successful graduates, or an online search. <! –– Start of footer -->